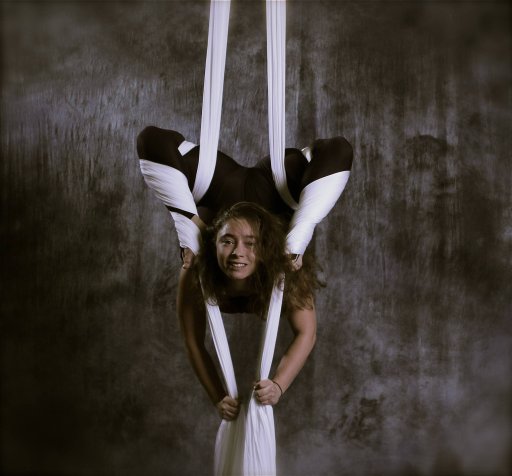 EChO is a DC based aerial artist who combines her passion for acrobatics, freedom of expressive dance, and stunning flexibility into imaginative and artful aerial works. She has performed for audiences all over the North-East coast. Her performance highlights include "Community Day" at African Arts Smithsonian (2009), Baltimore Alley Aerial Festival (2009, 2010, and 2011), Arachne Fieldwork Showcase (2010), Capitol Fringe Festival 2011's Upheaval (Best Dance), Deviated Theatre's Rising Artist open act for siGHT (2012), New England Center of the Circus Arts (2012 and 2013), and as a soloist in aerials and contortion in Vaudoux Aerial Dance's Gris at Artscape (2014).
She founded Aerial Polis DC, the first and only artistic aerial training facility in DC. She has been an instructor with Arachne Aerial Arts and Upspring Mt. Rainer, MD; she has taught workshops in Virginia Beach and AYCO regional conference (NECCA, 2014). EChO was also the founding member of the former Aerial DC Collective- an aerial arts performance company (2010 – 2014). She received her aerial fabric and trapeze teacher training at the New England Center for Circus Arts (NECCA) Nimble Arts Method; she is also a certified Sivananda Ashram Yoga instructor (2000). EChO's teaching philosophy focuses on building strong solid foundations in biomechanics and apparatus theory early on in the students' training allowing them greater independence and creativity throughout their aerial education.
Her introduction to movement began at the age of 7 through competitive artistic gymnasts. She competed with the American Twisters for 15 years. with a strong focus on dance discipline in technique and articulation. She began aerial fabric under the mentorship of Arachne Aerial Arts in 2007. EChO has since trained with many renowned circus and aerial coaches, as well as several prestigious circus schools; such as The New England Center for Circus Arts (NECCA) and Elsie and Serenity Smith in Vermont, Rachel Walker at École Léotard in Montreal, Circus Warehouse and CircusEdge in NYC, Aloft Circus Arts in Chicago, and the Philadelphia Contemporary Circus School in Philadelphia, and with Susan Murphy at the Marsh Studio in Georgia. For contortion, she has received training from the San Francisco School's Contortion Intensive, Adam
Woolley, and Cirque Du Soleil's Amaluna lead Yulya Mihailova.